The season premiere of Sons of Anarchy aired last night and it was everything I had hoped it would be. I will say that it was slow in a few places, but that is mostly because they are setting things up for the rest of the season. Also, the FANTASTIC final montage totally made up for it. I especially enjoyed some of the great dialogue in this episode, which I found to have a little more humor than previous seasons. I will now share with you some of my favorite lines:
Clay: Damn, that was fast
Gemma: Yeah, that's because you're used to speed bangin' Juice in dark hallways
Clay: Hey, don't turn what Juice and I had into something cheap and tawdry
Gemma: I'm sure it was sweet Puerto Rican magic
Clay to Unser: I got a call, Jed Clampett wants his front yard back
Jax to Tara: We should talk about all the chick shit you decked out my house in
I also always enjoy seeing Floyd the barber, even though he does not really do much. I also noticed that the actress playing Opie's daughter had changed and although I recognized her I could not for the life of me remember from where. It took all day, and the help of a Twitter-friend, to finally figure out that it is Kerris Dorsey, also known as Sarah Walker's daughter on Brothers & Sisters. (Yes, I am a dork for being able to recognize her, but I cannot help how my brain works :o) And, even though some of the casting news was announced over the summer, I had forgotten about a few and was happy to see another Deadwood actor and another Shield actor. I am hoping there is at least one scene between David Rees Snell and Kenny Johnson and one with Ray McKinnon and Dayton Callie. There were also a great Deadwood reference, when Clay referred to the new sherrif as "Wild Black Hickock."
Overall, I would say that I loved the episode and I cannot wait for the rest of the season! If you are not watching this show, I am not really sure what else I can say to convince you. It is awesome and you are totally missing out!
And in other television news.....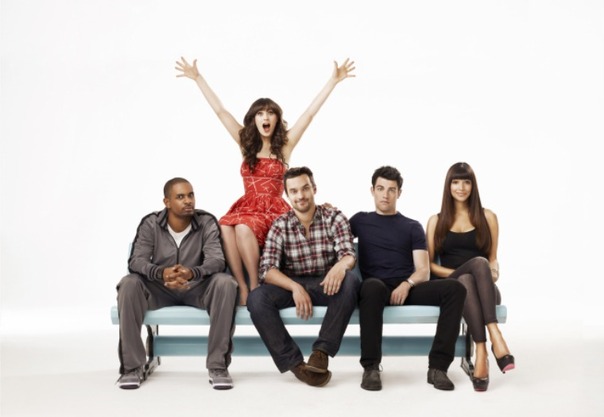 One of the new shows this fall on FOX is called New Girl and stars Zooey Deschanel. The pilot is currently available to watch OnDemand, at Hulu.com and can be downloaded for free from iTunes. I watched it this morning before work and I enjoyed it.
It is about a girl who gets dumped by her boyfriend and moves in with three guys who she finds online. She is quirky and often sings to herself and for the first week after she moves in, she watches Dirty Dancing and cries on the couch all day. The boys try to help her move on by taking her out, even though they are all dealing with their own issues.
There is a possibility that Deschanel's character will irritate me too much to continue watching the show, but for right now she was not too bad. Also, Damon Wayans Jr. was in the pilot because he was not sure that Happy Endings would get picked up for another season, which it now has, so he will be replaced in further episodes by Lamorne Morris. I will be interested to see if I can get into this show or not and will definitely keep you updated. It premieres on FOX
on September 20th at 9 pm.
I hope that everyone enjoyed their Labor Day Weekend and I look forward to hearing your thoughts on all the new fall shows!
xoxo
c
ps. I have not done this in a while, but as there have been several more natural distasters recently, here again is my list of places to donate to those in need:
Presbyterian Disaster Assistance
American Red Cross
Habitat for Humanity
United Way
World Vision
StillerStrong
The Nature Conservancy
National Wildlife Federation
--------------------------------------------------